Read Various Diseases And Health Problems Giant Milkweed Can Cure
Calotropis procera Commonly known as 'Giant-Milkweed' is a flowering plant species. It is not a weed as we know weeds to be. It is a shrub which is very common in settlements – villages and towns, in Nigeria and other part of the world.
The giant milk weed is called Bomubomu in Yoruba and Tumfatiya in Hausa. I don't know what the Igbo Community calls it.
The leaves of this plant are popularly used by the Fulani tribe and Hausa community to prepare a traditional drink called 'Wankachi' and Nono. Also, The leaves is used to cook beans and maize to prevent small pox and measles.
The natives use giant milk weed and value its medicinal properties which scientists have also looked into and confirmed that the the leaves, root, bark, flowers and the fruits are medicinal.
Various Diseases That Can Be Cure With Giant Milk Weed 
1. The leaves of the plant are boiled in water to treat malaria.
2. The root, bark of the plant is used to treat diarrhea and dysentery.
3. The powdered bark is used on chronic eczema.
4. The dried flowers can also be used for asthma, cold and cough.
5. It is used on parasitic infections including elephantiasis and worms.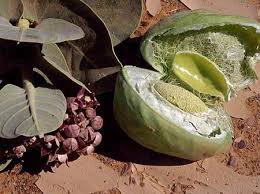 6. The milk of giant milk weed is used on ringworm of the scalp.
7. It relieves pains in the joints and may also be used on swellings.
8. It is used on carrion teeth to relieve pain, honey is added.
9. It is not poisonous, so it is used to cure stomach ulcers and stomach disorder.
10. The flowers are equally medicinal, good as tonic; help stomachic and digestive problems.
11. The latex extract can be used to treat ear ache.
12. The leaves is used in treatment of arthritis.
13. The leaf pulp is taken to treat snake bites.
14. A paste of the stem bark is applied on the skin surface cures skin diseases.