Only God knows how painful Maryam Babangida's death has been to her husband of 40 years, Ibrahim. From all indications, it must have been very painful. They had never been separated for four decades, living together through the good, tough, and bad times. When Babangida annulled a free and fair election in 1993 and was given the boot, he found comfort in his wife. She was never known to have failed to render his unconditional love and support. Even when Babangida's character as a ruthless dictator was in play, Maryam never spoke badly about anything her husband did. Contrarily, she used her husband's position to her greatest benefit.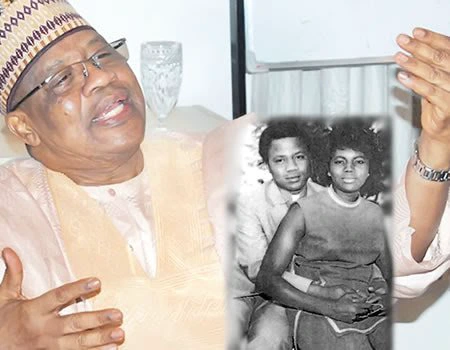 How bad it must have been for Ibrahim to have spent the last few months like an ordinary human being attending to a sick wife in the United States? One of Nigeria's richest and most crowding-drawing leaders must have been humbled, going back and forth in an American hospital to care for a sick wife. Babangida was not ordinary. He had lots of money. He could have bought the hospital where his wife died and all the medical staff, if he wished, and shipped them to Minna. What went wrong? This did not happen, did it?
Nigerian leaders know when they leave the shores of Africa, they lose the air of importance accorded at home. Quite often, they drive their own cars and are treated with courtesy but with none of the 'rankadede' accompaniments in Nigeria. When they eat their snacks, they have to throw the wrap in the bin like everyone else. When they go to the post office, they have to wait in line as everyone else. When they get to the airport, they must obey the rules. It must have been very humbling for Ibrahim Babangida to have gone through the 'disrespect' of the American life while at the same time tendering to a seriously ill wife.
Ibrahim would have wished he didn't have to bring Maryam to the United States for treatment at some point during the treatment. I am qualified to paint a picture of Babangida's last few months in the United States. Not only do I live here, but my mother-in-law was treated around the same time Maryam was hospitalized in California for an identical medical condition Mrs. Babangida died of at the Robert Wood Johnson University Hospital in New Jersey. They are about the same age and my mother-in-law gave birth to my wife the same year Maryam got married. You could say they had a lot in common, except, perhaps, a better life for richer women! My wife's mom is surviving. My wife and I had no problems whatsoever with meeting the conditions of the treatment, but I do know for a fact, it must have been difficult for a man of IBB's caliber to sit like a mere mortal in a US hospital.
I can imagine how the courteous nurses and doctors at the hospital talked to Babangida as if he was just another human being. "Can you please stand outside for a few minutes, Sir?" Can you move your legs there for a minute, Sir?" "Can you please come back at 7 pm, Sir?" "What did you say your name was again, Sir – can you spell it?" "Is it true that you were an important government official in the Caribbean, Sir?" I can almost see how the medical center's security men made him wait before entry and the cleaners cast him a bad look for littering the floor. How Ibrahim Babangida must have been brought back to earth in the last few months of his wife's presence on earth.
First, the generosity of the American government in allowing Babangida – a man who had been refused entry for so long – to join his wife on compassionate grounds must be hailed. They could have said no to his visa application, even when America stood to benefit from the millions of dollars that would be spent on treatment and by IBB's crowd of sympathizers who visited and shopped in the process. Thank you, America.
The point here is that Mrs. Babangida's death reveals how money has its limits and what price we pay for not doing the right thing at the right time.
Ovarian cancer is not such a medical condition that Nigerian hospitals should not have been able to treat after almost 50 years of our independence. The human resources to provide the best medical services exist in Nigeria, but the material resources are lacking. We lack the resources because Nigerian leaders have refused to provide them, thinking selfishly that if they stole enough, they would travel abroad to get anything they required. Instead of developing the nation that has been good to them, they steal catastrophic amounts of the public funds and afford themselves exclusive and exotic expenses such as the overseas medical treatment that did not save Mrs. Babangida's life. Fortunately (yes, fortunately), Ibrahim is perhaps the best example of bad leadership that got Nigeria in such a state where even mid-level civil servants seek medical treatment abroad.
When my dad died four years ago in Nigeria, no explanation was given of what he died of. He had been treated at local clinics and a university teaching hospital. They never told us what medical condition he lost his life to. They simply didn't know. And we didn't bother to press them, knowing the hospitals lacked the diagnostic capacity to provide an intelligent answer. You only have to visit Nigerian hospitals to know how bad the situation is. A friend, who migrated to the United States two years ago, an unbelievable story of his eye surgery. He was left in pain for several days because there were no drugs, even though he was receiving treatment in a military hospital as a member of the Navy.
Babangida and his cohorts looted Nigeria. They turned hospitals to consulting clinics and universities to glorified high schools. They took their own children from the system and sent them to the best schools abroad. They took from many and gave to a few. Nigeria became what Tell Magazine described as 'Rich Men, Poor Nation." While less endowed nations were taking great strides, Nigeria became a nation whose progress can only be seen through Lekki, Victoria Island, and Abuja, while the focus is lost on the abject poverty in our villages, towns, and cities.
While sending Maryam abroad has not saved her life, sending the children of the rich to school abroad has also resulted in an unintended consequence of international terrorism. Maryam and Farouk Mutallab have provided a weekend of deep reflection for Nigeria's rich.
Ibrahim and Maryam Babangida have no endowment at any Nigerian university. They did not contribute any money to any teaching hospital to cause any improvement or change. They did not build any hospital or local health center, neither did they put any money down to fight any major disease. Instead, they spent their money and time on frivolities.
The Babangida family did not use Maryam's medical condition to attract attention to this disease that affects millions, as most sensible public figures do. Instead, they lied to the end – telling Nigeria that all was well. No public statement was issued, even when the rumor mill was rife. The Maradona lied and hid in America as a common citizen.
The answer to our greatness is not in seeking solutions with stolen money outside of our shores, but in serving the people honestly and diligently.
Looking at it this way, Babangida could have contributed to the death of his wife: if Babangida had done something about the hospitals in Nigeria, the wife would probably have been tended to like a queen in Nigeria and her condition would have been correctly diagnosed and treated before it became terminal.
Againstbabangida.com wishes that Babangida will get over his loss through sober reflection, regret, and readiness for restitution. We will not join the gang of hypocrites and fail to tell him the truth. And this is the truth: We sympathize with Ibrahim Babangida on the death of his wife's, but our greatest sympathy goes to Nigerian women who suffer the same condition as Maryam but would never know what it is because they will not be correctly diagnosed by the medical system that Babangida bequeathed through corruption.
Chris Tunde Odediran, who practiced journalism at Guardian, Concord, and Punch, is the founder of Againstbabangida.com and Citizens For Nigeria