A day after Salvador Ramos went a shooting spree, the singer published a video of herself crying alongside a lengthy post regarding firearms laws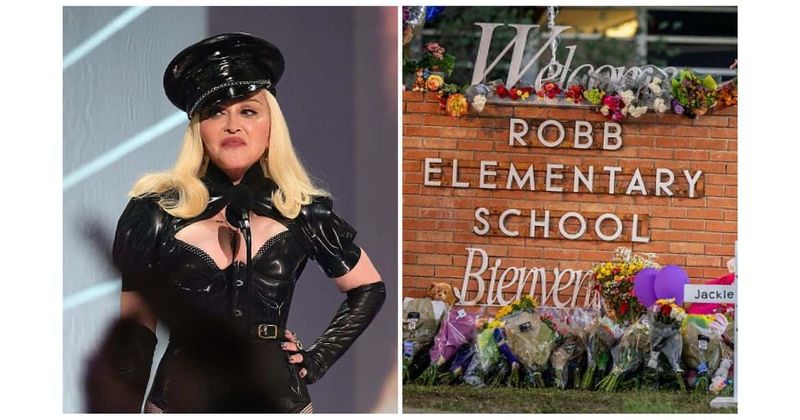 Madonna has expressed her sadness over the school shooting (Theo Wargo/Getty Images for MTV/ViacomCBS and Brandon Bell/Getty Images)
Madonna has expressed her grief over the latest school shooting in the United States and urged lawmakers to "pass gun reform now." On Wednesday, May 25, 2022 a day after Salvador Ramos, 18, murdered 19 young children and two adults at Robb Elementary School in Uvalde, Texas, the 'Like a Virgin' singer published a video of herself crying alongside a lengthy post regarding firearms laws.
The 63-year-old singer said in her Instagram post, "I cannot imagine the heartache and heartbreak the parents of these 19 Children must feel." She continued, "I have children in elementary school and if they did not come home from school one day I don't think I could survive." Madonna was particularly enraged by the fact that an 18-year-old child could "purchase 2 automatic Rifles on his birthday with no background check, no safety training, no questions asked????? (sic)"  She exclaimed, "The NRA (National Rifle Association) refuses to change its position and legislation cannot get one bill passed that requires tougher fire arm safety laws. In spite of the fact that there have been more gun deaths in America than there are days in this year. How is this possible???"
Notably, Madonna also stated, "The shooter posted countless warnings on IG and facebook announcing his plans to shoot his grandmother and students in a school. No one noticed!! No one stopped him. How is this possible?" She added, "We need to Insist on mandatory training for gun owners, the same way we require people to study and pass a test to get a drivers license," she continued. "A car is a Potential weapon if not used properly. So is a Gun!!! Hasn't anyone Drawn this correlation? If we Cant change the constitution we must Beg Lawmakers to pass Gun Reform NOW!!" She went on to say, "How tragic is it that we have to Beg to keep all children – All humans Safe from Gun Violence?? No more words action only. (sic)" Madonna accompanied the post with clips from "God Control," a song from her 2019 album 'Madame X', that shows scenes from a nightclub where a shooting occurs.
After Madonna shared her message, many people commented under her post and thanked her on Twitter. One user wrote, "I am also very upset. RIP🕯. 🇺🇸 USA, PLEASE Vote for #GunControlNow to prevent another tragedy. Also: #NonViolence is a #virtue. This #virtue needs to be #inculcated #everyday into boys and young men so that they are empowered to make better decisions when they are very #angry." Another user wrote, "I just keep thinking " It's not supposed to be like this!" Our children shouldn't have to worry about someone coming into their schools and killing them and their friends. My heart goes out to all their families." Another person said, "This is really heartbreaking 💔 @Madonna these harmless little kids didn't deserve this at all."